ANTI-AGING complex extract combats signs of ageing thanks to the synergistic and complementary actions of the selected plants: maintenance of moisturization, activation of micro-circulation, stimulation of the neo-synthesis of the elastin and collagen fibres, protection against free radicals.
It combines plants which were selected for their synergetic and complementary activities: keep hydration stable, activate skin micro-circulation, stimulate elastic fibers and collagen neo-synthesis and protect against free radicals
This product is recommended for milks, lotions, creams, gels, serums.
COSMETIC BENEFITS of Anti-Aging Complex Extract
The skin is firm, supple and radiant.
Maintenance of skin elasticity gives a smoother, more radiant skin, whose vitality is preserved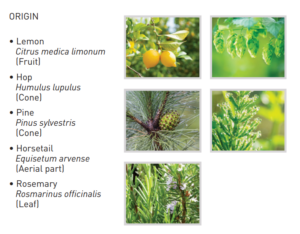 SCIENTIFIC PROCESS
• RESTRUCTURATION OF CONNECTIVE TISSUE
Lemon and Horsetail promote collagen, elastin, structural glycoprotein and mucopolysaccharide synthesis by fibroblasts. Organic silicon from Horsetail acts as a bonding agent, structuring the connective tissue, while Hop promotes regeneration.
• HYDRATION
The amino acids from Pine, Horsetail and Lemon trap water in the Stratum corneum, the AHAs from Lemon clean and moisturize skin, while the phenol and catechin compounds
from Pine and Rosemary strengthen capillaries, balancing hydration.
• REVITALIZATION
The stimulation of skin micro-circulation by Lemon improves skin vitality.
• WRINKLE PREVENTION BY FREE RADICAL TRAPPING
Horsetail, Lemon, Pine and Rosemary contain quercitin, rutoside (vitamin P), rosmarinic acid and cafeic acid (antioxidant), which offer protection against free radicals. Moreover, the mineral bioactivators in Horsetail activate enzymes that trap free radicals, thus protecting skin from damages induced by the actions of collagenase and elastase.
Dosage: 1 – 5% in cosmetic preparations
Tolerance tests
• Eye irritation: non-irritant
• Skin irritation: non-irritant
INCI: Humulus Lupulus (Hops) Cone Extract, Rosmarinus Officinalis (Rosemary) Leaf Extract, Equisetum
Arvense Extract, Pinus Sylvestris Cone Extract, Citrus Medica Limonum (Lemon) Fruit Extract
Preservative: Aucun
Appearance: clear liquid
Colour: Amber yellow to pale brown