What is an Oil-to-Milk cleanser?
In oil-to-milk formulas the oils emulsify on contact with water, turning the product milky, allowing both oil and water-soluble impurities to be removed and helping the product rinse off easily. Skin is left soft and nurtured; not dry or greasy.
Unlike harsher surfactant-based foaming cleansers, Oil-based cleansers do not strip the skin or disrupt the acid mantle. They can help restore the skin's moisture levels. Oil-based cleansers are suitable for all skin types, including oily.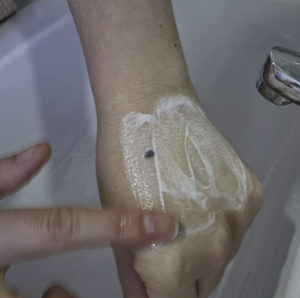 Oil-to-Milk products are anhydrous (non-water-containing) products.  These by their nature are not prone to microbial contamination or growth as they do not contain water.
Examples of other anhydrous products is body oils, bath oils, body butters, facial cleansing oils, oil to milk cleansers and facial oils/serums
About the Ingredients Used in this Formulation:
In this formulation carrier oils are used to clean oil based impurities form you face.  The water you mix the product with at the time of use will clean off any water based impurities.
Sunflower
Avocado
Hazelnut
Moringa
Pomogranate
Castor
Grapeseed
Jojoba
Hemp
Rosehip
Fractionated Coconut
Sesame Seed
Rosehip
Macadamia
Passion Fruit
Argan
Avocado
Pomogranate
Evening Primrose
Argan
Rice Bran
Apricot Kernel
Avocado
Moringa
In this formulation carrier oils are our active ingredients.  Active ingredients are any type of ingredient that offers a special benefit to the skin.
Myrrh
Petitgrain
Patchouli
Cedarwood
Bergamot
Cedarwood
Frankincense
Geranium
Ylang Ylang
Juniper Berry
Cedarwood
Roman Chamomile
Myrrh
Frankincense
Helichrysum
Black Spruce
Lavender
Rosemary
The emulsifier is what will cause the milky effect when you mix your cleanser with water.  When the oil and water emulsify, you get to use both to their full potential.
There are different emulsifiers you could use for this formulation.  The cheapest one is Polysorbate 80, but if you are wanting to only use natural ingredients, this will not be an option for you.
Up next is Durosoft PG4-O.   Durosoft PG4-O is naturally derived from sunflower seed oil, its lipophilic properties make it ideal for use in transparent and water free formulations such as oil cleansers, massage oils and solid moisturising bars.
There is also Polyglyceryl-4 Caprate which is a PEG-free non ionic emulsifier based on natural raw materials.
When carrier oils gets older they start to oxidise or go rancid, to help delay this process, we add an antioxidant.
We add Natural Vitamin E oil as an antioxidant, please note that while synthetic Vitamin E works well for your skin, it does not help delay the oxidization of your carrier oils.
A note regarding quantities used:
When we formulate, we do so in percentages, and then weigh our ingredients, as that is the easiest way to scale your formulation.  I know not everyone has an accurate enough scale at home, and since we are only working with liquid ingredients, I have added milliliter measurements in brackets next to each ingredient.  If you use the milliliter measurements provided you will make approximately 50ml of oil-2-milk cleanser.
Lavender & Geranium Oil-to-Milk Facial Cleanser
1.2% (0.6ml) (+-16 drops) Lavender Essential Oil
0.8% (0.4ml) (+-11 drops) Geranium Essential Oil
1% (0.5ml) Vitamin E Oil (natural)
Weigh or measure all your carrier oils in a beaker, mix well.
Weigh or measure your essential oils and Vitamin E.
Weigh or measure your emulsifier into an empty beaker and start mixing it with a whisk. (I've found an electric one with only 1 attachment on a slow setting, works very well)
While whisking, start adding you're your carrier oil mixture in small amounts of 1-2ml to start with. Mix well after each addition.
Once you've added about a ¼ of your oil mixture, you can start adding bigger quantities at a time, but still make sure to mix well before adding more oil.
Once all your carrier oil has been added and mixed in well, you can add your essential oil and Vit E, mixture.
When everything is mixed well, you can transfer your product into the packaging of your choice. I've found a dropper bottle with a lotion or serum pump attachment works well for me.
Notes:
If you suffer from a nut allergy, you might have to substitute the Sweet Almond Oil
You can substitute the carrier oils for another carrier oil/s of your choice
You can substitute the essential oils for other essential oils of your choice
When using Durosoft PG4-O you can decrease the emulsifier to 15% and increase the carrier oil % so that your formula still adds up to 100%
When using Polyglyceryl-4 Caprate you can decrease the emulsifier to 10% and increase the carrier oil % so that your formula still adds up to 100%
Add a small amount of your cleanser to damp hands and apply to your face by gently rubbing.
Rinse off with warm water